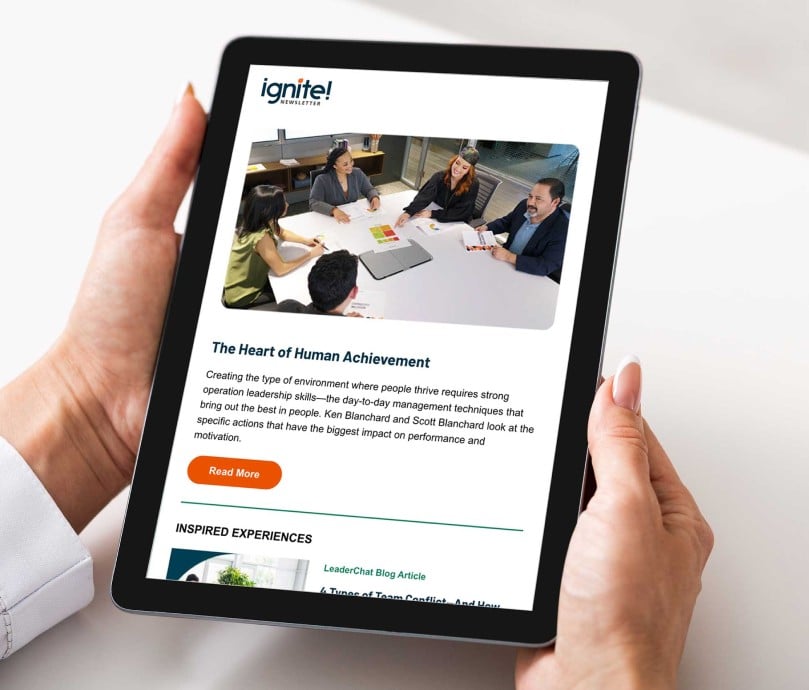 Your monthly guide to bringing out the best in people
Blanchard's Ignite! newsletter provides invaluable insights and strategies to help you build and cultivate a productive and engaged workforce.
Our team of leadership experts and thought leaders delve into the most pressing topics in employee engagement, productivity, motivation, and performance. We bring you practical and actionable advice that you can implement immediately in your organization.
Whether you are a seasoned leader or new to the field, the Blanchard Ignite! newsletter is the perfect resource to keep you up-to-date with the latest trends and best practices in talent development.
Subscribe today and join our community of inspired leaders who better themselves as they better others and drive success in their organizations.
Ignite! brings best practices straight to your inbox each month
Latest Issue
SEPTEMBER 2023
Building the Mindset and Skill Set for Change
"Organizations are still launching large, strategic change initiatives aimed at moving the business forward and helping the business grow—but what's new in this space is the need to build agility and change-readiness into the fabric of the organization," says change expert Judd Hoekstra.
"This requires today's leaders to do something we've never done before: develop a level of comfort with ambiguity and a readiness to move forward with change initiatives that are less than perfect." Read More