Create success with a situational approach to leadership
SLII®, the most widely used leadership training program in the world, teaches leaders how to build meaningful connections with coworkers that create exponential impact. When this happens, employees are more productive and engaged. And their organizations excel.
SLII is far more than a powerful leadership training program. It delivers exceptional ROI across the enterprise.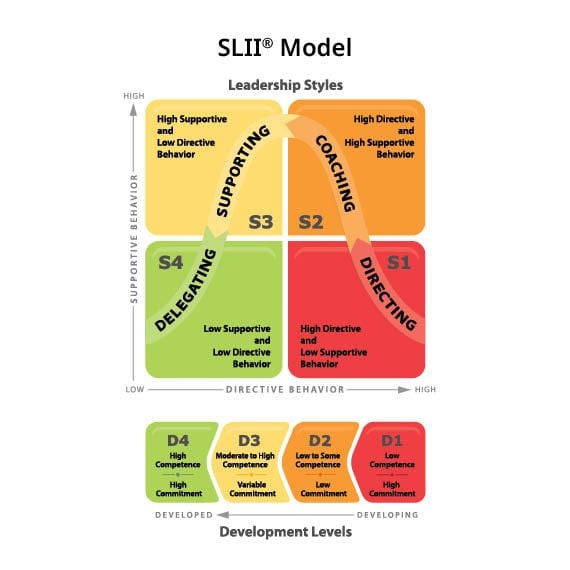 Proven, time-tested leadership model
SLII is an easy-to-understand, practical framework that enables your managers to diagnose the development level of an employee for a task: D1 – Enthusiastic Beginner; D2 – Disillusioned Learner; D3 – Capable, but Cautious Contributor; and D4 – Self-Reliant Achiever. Managers then use the appropriate directive and supportive behaviors to help them succeed: S1 – Directing; S2 – Coaching; S3 – Supporting; and S4 – Delegating.
Our award-winning learning design, The SLII Experience™, incorporates Blanchard's latest research and state-of-the-art design theory. This creates a learning experience that allows for quick mastery of the methodology and enables managers to help their direct reports soar to new professional heights.
Hand holding iPhone with SLII® app displayed
SLII® App
The SLII App is a go-to reference tool that helps leaders apply the SLII Model to real world situations. The App can be used at critical moments, allowing managers to quickly diagnose an employee's leadership needs for a specific task. Then, it provides the corresponding conversation guides to quickly prepare managers for a productive discussion.
The SLII App features a tool to diagnose an individual's development level on goals or tasks, tips on what to do to help implement the principles of SLII, and an interactive SLII Model that shows the key characteristics of each development level and matching leadership style.
Kenbot™ for SLII®
Kenbot for SLII is a chatbot that helps learners apply and master the skills taught in SLII through personalized conversations. The bot provides just-in-time support with quick answers to common questions and links to videos, worksheets, tools, and assessments. It can also send reminders on key tasks, such as one-on-one conversations, and provide opportunities for sharing insights with other users.
Kenbot for SLII uses AI to run on any mobile device that supports SMS or text messaging. The app is compatible with Microsoft Teams, Slack, Facebook Messenger, Salesforce, WebChat, and other popular platforms.
Trainers talking around a table
SLII® Training for Trainers
Our learning design—The SLII Experience™—uses game-changing techniques that immerse learners in SLII deeply and effectively. Our Training for Trainers program thoroughly prepares prospective SLII trainers with deep understanding of the concepts and skillsets of SLII so they feel confident, motivated, and prepared to roll out The SLII Experience in their organizations.
Trainers must complete The SLII Experience course within 12 months prior to attending the Training for Trainers.
Great leaders build meaningful connections
Great leaders give their people what they need, when they need it. That means having authentic conversations that empower. Caring about their growth. Being their champion. Seeing their promise.
Leading situationally is a dramatic departure from management styles of the past. And it's an approach that produces dramatically better returns than other management styles.
54%
of leaders use only one
leadership style, regardless of
the situation.
Which means
50%
of the time, leaders are using the wrong leadership style to meet the needs of their people.1
1
Blanchard internal data.
Client Success Story
AGRICULTURAL COOPERATIVE
Measuring the Effectiveness of SLII® Training at Land O' Lakes
Learn how Land O' Lakes improved communication and performance of its sales force with leadership development.
Ready to Get Started?
SLII® can be delivered face-to-face, virtually, online, or as a combination of learning modalities. Contact us today to learn more about how you can use SLII to empower your leaders to build meaningful connections that drive exponential impact.