Prepare your next generation of executive leaders
In leading critical business functions, your senior leaders are the bridges between the executive team's vision and the managers of the company's day-to-day execution. Senior leaders are charged with translating broad goals into departmental and operating unit tasks.
Connect to the company's vision
Sharing their leadership POV and personal stories, these leaders show employees the connection between their work and the company's long-term vision.
Motivate teams
Great senior leaders inspire and engage their teams through effective communication, creating a culture of high performance and accountability, and fostering an inclusive work environment.
Create a customer-centric organization
As advocates for exceptional internal and external customer service, senior leaders set the example for accountability, innovation, and soliciting feedback to anticipate customer needs.
Senior leaders operationalize the organization's vision and values
Senior leaders transform the company's vision into departmental and division goals, fostering cross-organizational collaboration, leading change initiatives, and inspiring innovation. These leaders are the key to creating an inclusive, high-performance workplace culture that reflects the company's values. Blanchard believes senior leaders benefit from evidence-based leadership training frameworks and opportunities to discuss challenges and share best practices with their senior management peers. In their roles, senior leaders must be able to:
Identify and implement appropriate work structures and processes to accomplish goals
Bring cross disciplinary knowledge to bear on issues and opportunities
Manage and develop effective working relationships with people from other functions to achieve common objectives
Create a nimble environment based on a culture of adjustments and realignment
Advance diversity and inclusion, engaging diverse teams to solve business challenges
Investigate and adopt best practices from within and outside the organization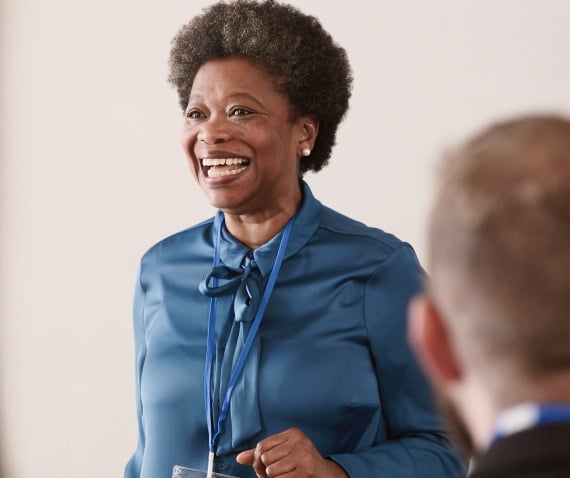 Make experienced managers the foundation of your success
Senior leaders are your leaders of leaders, providing the vision, coaching, and tested processes and frameworks that enable high-performing teams across your organization. But to do this, they need to gather, learn from, and adapt proven strategies from your organization and beyond. Learn more about how Blanchard can craft a customized leadership and team building program for senior leaders to enhance your organization's creativity, execution, and productivity.